Exceptional Family Member Program
Hours of Operation
| | |
| --- | --- |
| Monday | 8 a.m. - 4:30 p.m. |
| Tuesday | 8 a.m. - 4:30 p.m. |
| Wednesday | 8 a.m. - 4:30 p.m. |
| Thursday | 8 a.m. - 4:30 p.m. |
| Friday | 8 a.m. - 4:30 p.m. |
| Saturday | Closed |
| Sunday | Closed |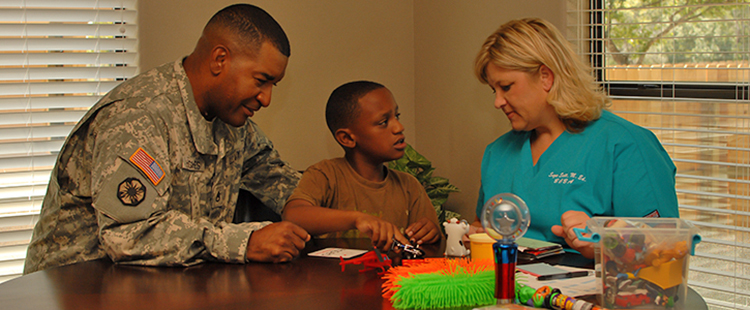 The Exceptional Family Member Program (EFMP) provides comprehensive support to Family members with special needs. EFMP takes an all-inclusive approach to coordinate military and civilian community, educational, medical, housing, and personnel services to help Soldiers and their Families with special needs.
An Exceptional Family Member is Family member with any physical, emotional, developmental, or intellectual disorder that requires special treatment, therapy, education, training, or counseling, and meets the eligibility criteria.
If you're eligible for EFMP services, Family members must be screened and enrolled when they accompany authorized Soldiers on OCONUS assignments. Screenings include medical records review for all Family members and developmental screening for all children aged 72 months and younger.
What is the Exceptional Family Member Program?

The EFMP is a mandatory enrollment program that works with other military and civilian agencies to provide comprehensive and coordinated medical, educational, housing, community support and personnel services to Families with special needs.

Who must enroll in the program?

The following Soldiers with Exceptional Family Members must enroll in the program:

1. Active Duty Army

2. U.S. Army Reserve (USAR) Soldiers in the USAR-Active Guard Reserve (AGR) program and other USAR Soldiers on active duty exceeding 30 days.

3. Army National Guard personnel serving under authority of Title 10, United States Code and Title 32, United States Code. Department of the Army civilian employees do not enroll in the program. However, they must identify Family members with special education and medically related service needs each time they process for an assignment to a location outside of the United States where Family member travel is authorized at Government expense.

How does a Soldier enroll in the program?

The Soldier contacts the nearest medical treatment facility EFMP point of contact to begin the assessment process and to obtain the enrollment forms: DD Form 2792 (Medical), DD Form 2792-1 (Special Education). Once the forms are completed, they are forwarded to the appropriate regional medical center for coding and on to Army personnel agencies who enroll the Soldier into the program. At West Point, once the EFMP enrollment forms are completed, the Family can call the Keller Army Community Hospital EFMP Coordinator at +1 (845)938-6881 to schedule an appointment for initial enrollment review or for an update review. After the review is complete, the paperwork is forwarded to Walter Reed Army Medical Center for coding and processing.

Does enrollment have any impact on the Soldiers career?

Enrollment in EFMP does not adversely affect selection for promotion, schools, or assignment. Information concerning enrollment in EFMP or any of the data used in the program is not made available to selection boards.

What are the benefits of enrollment in the program?

Enrollment allows assignment managers at Army personnel agencies to consider the documented medical and special education needs of Exceptional Family Members in the assignment process. When possible, Soldiers are assigned to an area where the medical and special education needs of the Exceptional Family Member can be met. This will depend on the valid personnel requirement for the Soldier's grade, specialty and eligibility for the tour. All Soldiers are still eligible for worldwide assignments.

Are special education needs considered in military personnel assignments?

Special education needs are only considered in assignments outside the United States. Assignments within the United States are not based on the educational needs of children. Every local school system must obey public laws regarding the provision of special education.

Rights and Responsibilities

KNOW YOUR RIGHTS

Public Law 90-480, Architectural Barriers Acts of 1968
Requires that certain Federally owned, leased
or funded buildings and facilities be accessible
to individuals with physical disabilities.

Public Law 93-112, The Rehabilitation Act of 1973
Addresses discrimination against individuals with disabilities
Section 501: Employment of Handicapped
Section 502: Architectural and Transportation Compliance
Section 503: Employment Under Federal contracts
Section 504: Non-Discrimination Under Federal Grants
"No otherwise qualified handicapped individual in the United States shall, solely by any reason of his (or her) handicap, be excluded from the participation in, be denied the benefits of, or be subjected to discrimination under any program or activity receiving Federal financial assistance"

Public Law 94-142, The Education for all Handicapped Children Act
Made it possible for states and localities to receive Federal funds to assist in the education of children with disabilities. States must provide: A free and appropriate education in the least restrictive environment; an individualized education program (IEP) with existence of due process and parent participation.

Public Law 95-561, Defense Dependents' Education Act
DoDDS is required to provide programs designed to meet the needs of eligible students in locations outside of the United States.

Public Law 98-372, The Handicapped Children's Protection Act of 1976
This law provides for reasonable attorney fees and costs for parents who prevail in            administrative hearings or courts.

Public Law 98-524, The Vocational Act of 1984
This is particularly important because it requires that vocational education be provided for     students with disabilities.

Public Law 98-410, Temporary Child Care for Handicapped Children
and Crisis Nurseries Act of 1986
This law includes provision to fund temporary child care (e.g. respite care) for children who have a disability or chronic illness and crisis nurseries for children at risk of abuse or neglect.

Public Law 99-380, The Family Education Rights and Privacy Act of 1974
This law gives parents of students under the age of 18, and students age 18 and over, the right to examine records kept in the student's personal file.

Public Law 101-336, The American with Disabilities Act (ADA) of 1990
Guarantees equal opportunity for individuals with disabilities in employment, public
accommodation, transportation, state and local government services and telecommunications. It is the most significant Federal law assuring the full civil rights of all individuals with disabilities.

Summary of Parents' Rights
• You must be notified in writing before the school recommends or takes any action to change your child's school program.
• You must give permission in writing to the school before it can rest your child to determine special education services.
• You must be allowed to examine and make copies of your child's school records.
• Schools must provide you with a due process hearing at any point you feel your rights have been violated.
• You have the right to appeal to the state department of education and state level courts.
• You have a right to be reimbursed if they prevail.

Parent Responsibilities
• Be aware of all rights and resources.
• A review is required as the EFM condition changes or at least every three years, whichever comes first.
• Hand carry all medical records, Form 5888 and IEP's when PCSing



EFMP Helpful Downloads
• Special Needs Accommodation Process Team Pamphlet (SNAP)
• SCOR for Adults
• SCOR for Children

EFMP Helpful Links:
• External Links Page

EFMP Helpful Links