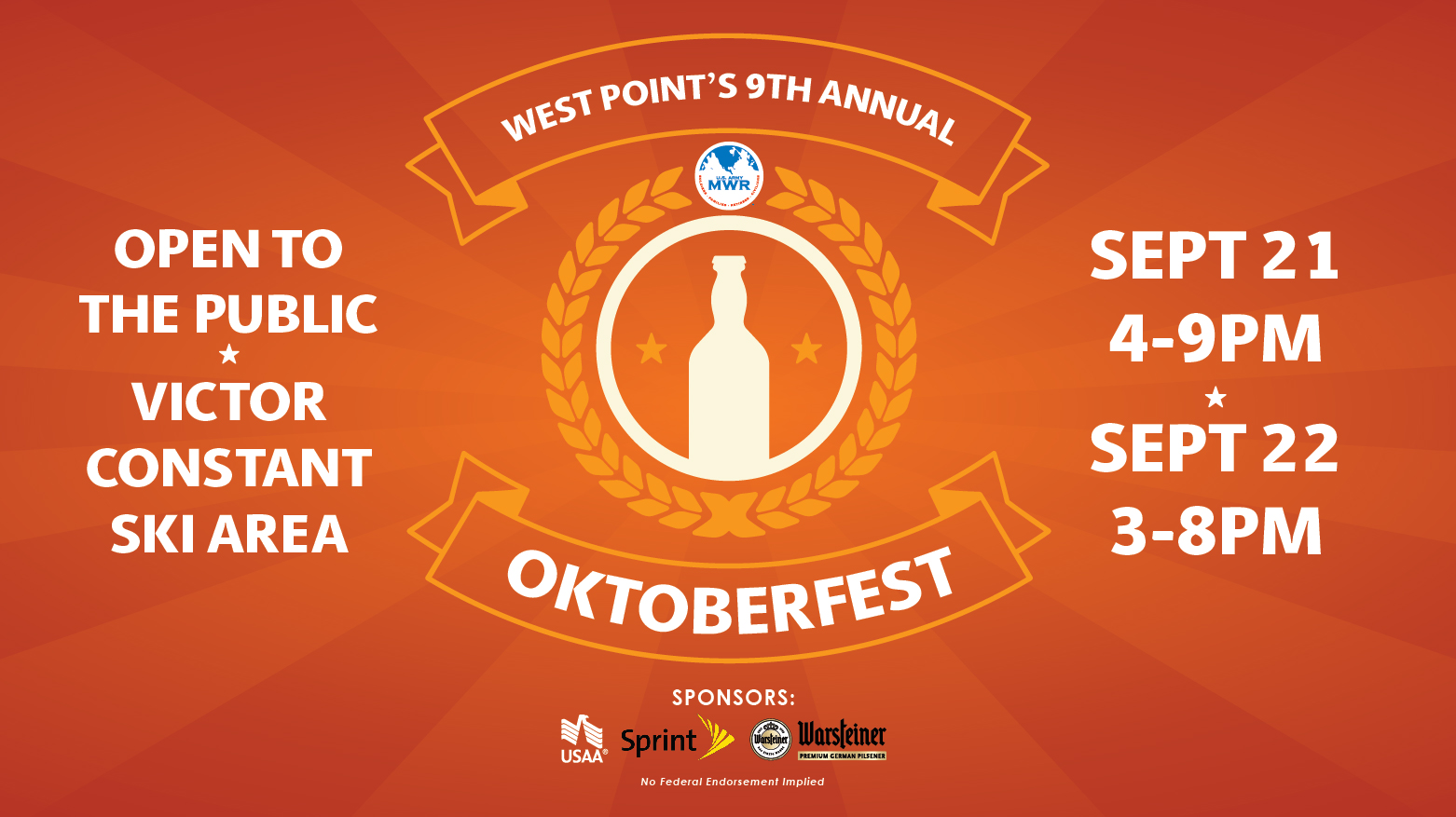 Note: This event has already passed.
Date: Sep 21 2018, 4 p.m. - 9 p.m.
Open to the Public!
Join us for the 9th Annual Oktoberfest at West Point!
Traditional German Food, Drink, and Music with American Flair.
Located at Victor Contanst Ski Area - 732 Victor Constant Rd Bldg. 732 West Point 10996
Friday September 21, 4-9pm (Adult Night)
Saturday September 22, 3-8pm (Family Day)
Enjoy authentic German entertainment provide by Alpine Squeeze and food provided by the West Point Club! Both days feature great food, beverages, and entertainment, but Saturday will be a little bit more kid friendly with bounce houses and Kindercorner brought to you with the support of the West Point Spouses Club.
Stammtisch (Table Reservations)
'Regular's Table' reservations are available Friday (21 Sept) for $10. Sits 6-8 comfortably. Signage will be placed on the table to ID your section. General admission applies to all guests. Reservations can be made now through September 19, here. Or call +1(845) 938-6497 to reserve a table.
Mr. & Mrs. Oktoberfest
Awards will be given to the best dressed on each day. Adult only competition is Friday with the Children only competition on Saturday. Winners will be announced that night. Registration is that day at the beer trailer.
Stein Holding Contest
Are you strong enough to outlast all others? Let's put that to the test. The game is simple, hold a 1 Liter glass stein filled to the brim with liquid and with your arm held at a straight ninety degree angel in front of you; parallel to the floor with your elbow locked. Once a competitor's elbow bends or spills/drops the stein, the person is removed from the contest. Longest time wins the competition. Competition will be held each day and there is a men's and women's category. Registration is that day at the beer trailer.
Dachshund Race
Everyone's favorite race is back this year and will be held Saturday 22 September at 4pm. Registration is that day at the beer trailer. Prizes will be awarded to the fastest weiner. For questions, email us below.
Grain Sack Toss
Think you've got the strength to throw a sack of grain the furthest? Why not put it to the test with this friendly strength competition! Who will toss the Grain sack the furthest? Each contestant will get two throws to try and throw their grain sack the greatest distance. Furthest grain sack Toss for both men and women will win a prize and be named the 2018 Grain Sack Toss Champion.
Schedule of Events
Friday, September 21st
4:00PM
Oktoberfest Gates & Biergarten Open Day 1
4:00-8:30PM
Live Music: Alpine Squeeze
5:00PM
Keg/Grain Sack Tossing Competition
6:00PM
Herr/Frau Oktoberfest Costume Contest (Adult)
7:00PM
Welcome by Garrison Commander (Ceremonial Keg Tap)
7:45PM
Stein Holding Competition
9:00PM
Oktoberfest Day 1 Closes, Bis Morgen
Saturday, September 22nd
3:00PM
Oktoberfest Gates Open Day 2
3:00-7:30PM
Live Music: Alpine Squeeze
3:00-6:00PM
Kinder Korner (WPSC)
4:00PM
Weiner Dog Race
5:00PM
JR Herr Frau Oktoberfest Costume Contest
6:00PM
Stein Holding Competition
8:00PM
Oktobrefest Day 2 Closes
Ongoing Activities (Both Days):
Trash Can Pong
Corn Hole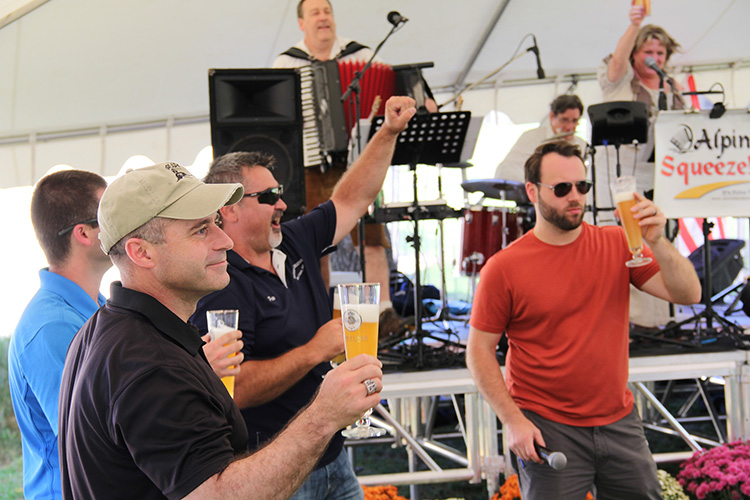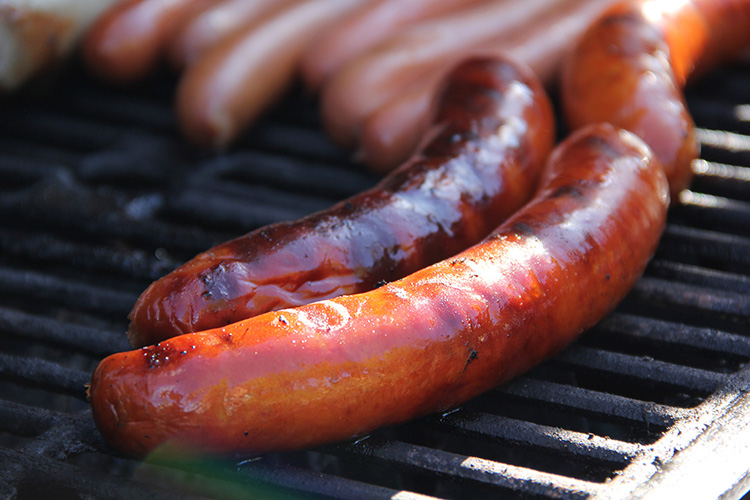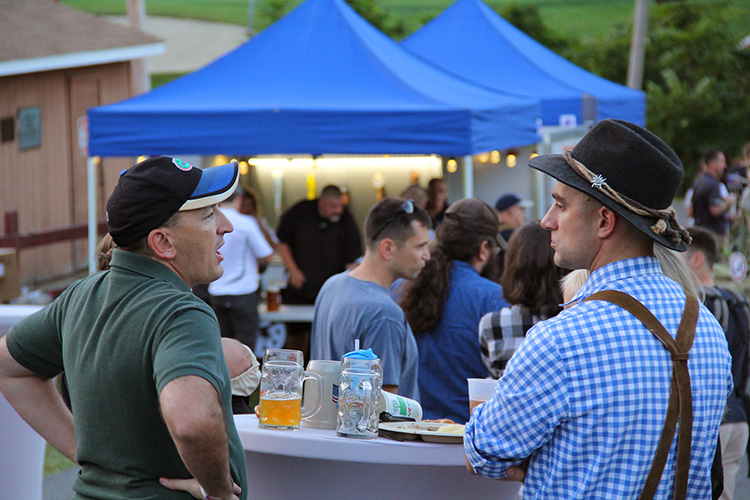 Sponsors (No Federal Endorsement Implied)
Cost
Entry Fee:
$3 Per Person (2 People for $5)
Kids (12 & younger) - FREE!
Commemorative 1/2 liter Stein:
1 for $15
2 for $25
Includes first beverage.
Commemorative 1 liter Stein:
1 for $25
2 for $45
Includes first beverage.
Oktoberfest T-Shirt:
Beverages:
General sales for all beverages (beer, cider, and wine) are $5 (1 Chip).
All 1 litre stein refills are $10 (2 Chips).
Steins & chips can be purchased from the designated booth, just beyond admissions.
Soft drinks can be purchased from our food vendor (outside) or the West Point Golf Course snack bar (inside).
Food:
Food can be purchased from our food vendor, the West Point Club located outside near the Ski Lift House.