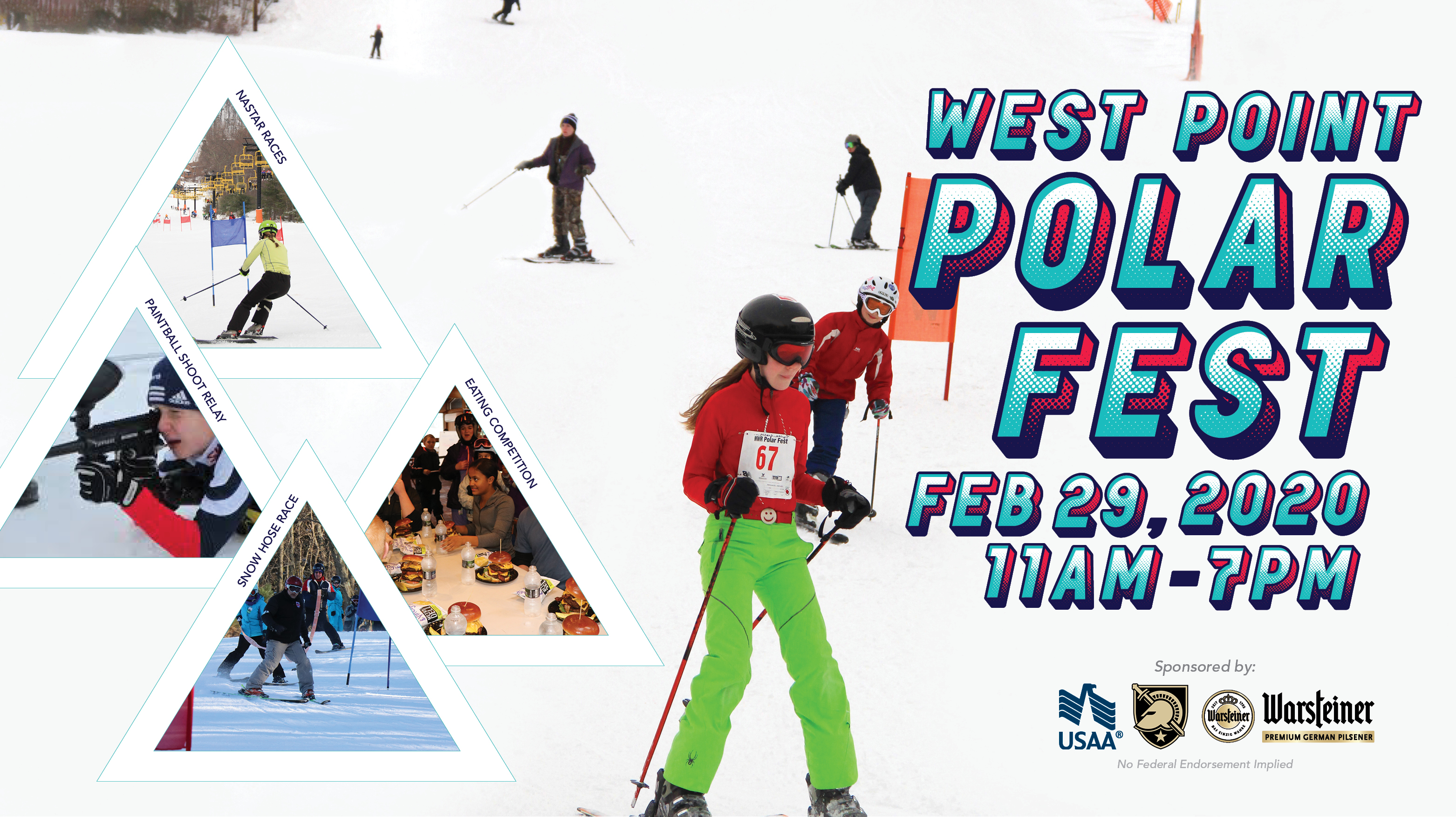 Note: This event has already passed.
Date: Feb 29 2020, 11 a.m. - 7 p.m.
Victor Constant Ski Area - 732 Victor Constant Rd Bldg. 732 West Point 10996 Google Map
Open to the Public!
Join West Point for our annual Polar Fest at Victor Contanst Ski Area. There will be skiing, snowboarding, paintball shoot relay, live music & more!
Check back here for updates and a list of the day's events.
Activities:
"Guess the Snowballs": A container filled with our special snowballs will be placed at the snack bar. Think you know how many snowballs are inside? Fill out a form with your best guess for a chance to win 2 free lift ticket to the Victor Constant Ski Area or other great prizes! Careful, not every snowball is the same size!!!
Bonfire: For Polarfest we are warming up the outside with a day-long bonfire. Relax by the fire after taking a cruise down the slopes with some delicious food or a nice beverage. There will be a S'more station in the mid-afternoon where you can test your creativity with making this delicious dessert in more than just the traditional style.
Kids Corner: Kids Corner will have tons of activities going on in the afternoon provided by West Point Youth Services. Check it out for some snow painting and other exciting games and activities.
Eating Contest: Everyone's favorite event, a limited number of lucky challengers will get to sign up for this year's eating contest. Last year was a pie eating contest. What will it be this year?
Paintball Relay: Forma team and take on this paintball shoot relay race. Targets will be set up for participants to hit before they can move on to tag their partner. Don't miss this fun and exciting challenge that is new to Polarfest 2020!
Live music will be provided 1pm-5pm!
Schedule of Events:
11am Gates Open
Bonfire Begins (Uphill from Lodge)
Bar Opens
Cornhole Tournament Signup (Uphill from Lodge)
12pm Cornhole Tournament (Uphill from Lodge)
Food (Lodge 12-3)
1pm Band (Lodge 1-5)
2pm Kids Corner (Base of Bunny Slope, 2-4)
3pm Ice Cream Sundae Contest (Uphill of Lodge)
(Sign up at the Snack Bar by 2:30pm, must have a partner)
"Guess the Snowball" winner announced
4pm Paintball Relay (Bunny Slope)
(Sign up at the Snack Bar by 3:30pm)
S'Mores (Bonfire, uphill of lodge)
7pm End
* Times and activities are approximate and are subject to change
* Polarpass is required for Activities and Polarfest Food and Beer
Food/Menu:
12 - 3pm, Food will be available in the lodge and is included with your Polar Pass.
Menu: Pulled Pork with a roll, Baked Beans, Corn, Coleslaw, Brownie
Drinks: Polar Pass will have 3 punches for beer, or nonalcoholic beverages
Cost
Pre-Registration Prices:
All Access (Includes Food, Events, and Snow Pass)
General Public: $36
Authorized Users: $30
Event Only (No Snow Pass):
$15 Per Person
Day of Prices:
All Access (Includes Food, Events, and Snow Pass)
General Public: $40
Authorized Users: $34
Event Only (No Snow Pass):
$19 Per Person
Registration Info
Time Sensitive Registration Pricing. Sign up in advance online or in person at the Victor Constant Ski Area ticket office! Hurry, the price raises the day of the event!
Use the signup link below to register!
Contact