West Point Halloween Week Festivities
Family & MWR has a series of activities planned for Halloween week!
Oct 26 2020 - Nov 2 2020
Oct 26 2020 - Nov 2 2020
Monday, October 26th- Pumpkin Farm Stand
Time: 1pm-6pm
Place: H-Lot
Cost: Free
MWR is hosting a Farm Stand on West Point at H-Lot. Now is your opportunity to come and receive a FREE pumpkin courtesy of MWR from our "Farm Stand". We will be there from 1pm-6pm with tons of pumpkins and great music. This is the kickoff to our Halloween Week filled with fun events!!! Come get a free pumpkin to carve for our Carving Contest and Light up Lusk event!!!
Virtual Pumpkin Carving Contest
When: During the Week of Halloween (Oct 26th- Nov 1st)
MWR is hosting a virtual pumpkin carving contest with prizes for different categories and "crowd favorites". Carve your most creative design for Halloween, make it scary, funny, or just artistic. Once you have carved your pumpkin, upload a photo to the comments section of the MWR facebook event, or send it in an email to Usarmy.westpoint.id-training.list.se@mail.mil. Uploads must be submitted between October 26 and October 30th, but get those pumpkins carved and photos posted early so everyone can see your creativity and vote for you!!!
Voting will be based on 'liking' or 'loving' the Facebook photos posted in the comments. 1 point for like and 2 points for love. Voting will be conducted October 26th -November 1st. Those with the most points, win! Winners will be announced November 2.
Prizes will be issued to the top 3 favorite carvings as selected by the community.
Light Up Lusk
When: Friday, October 30th
Where: Lusk Reservoir
Time: 1-6pm & 6-9pm
Families can drop-off their carved pumpkins to MWR where the pumpkins will be illuminated with different colored glowsticks at Lusk Reservoir to "Light up Lusk". We are asking everyone with a carved pumpkin to drop them off to MWR between 1pm and 6pm at Michie Stadium Parking Lot. Pumpkins can be viewed between 6pm and 9pm by walking the sidewalk or driving by Lusk Reservoir. Families can then retrieve their pumpkins to have them home for Halloween between 8:30pm and 9:30pm.
Winners Announced!
Monday, November 2nd via MWR Facebook page @westpointfmwr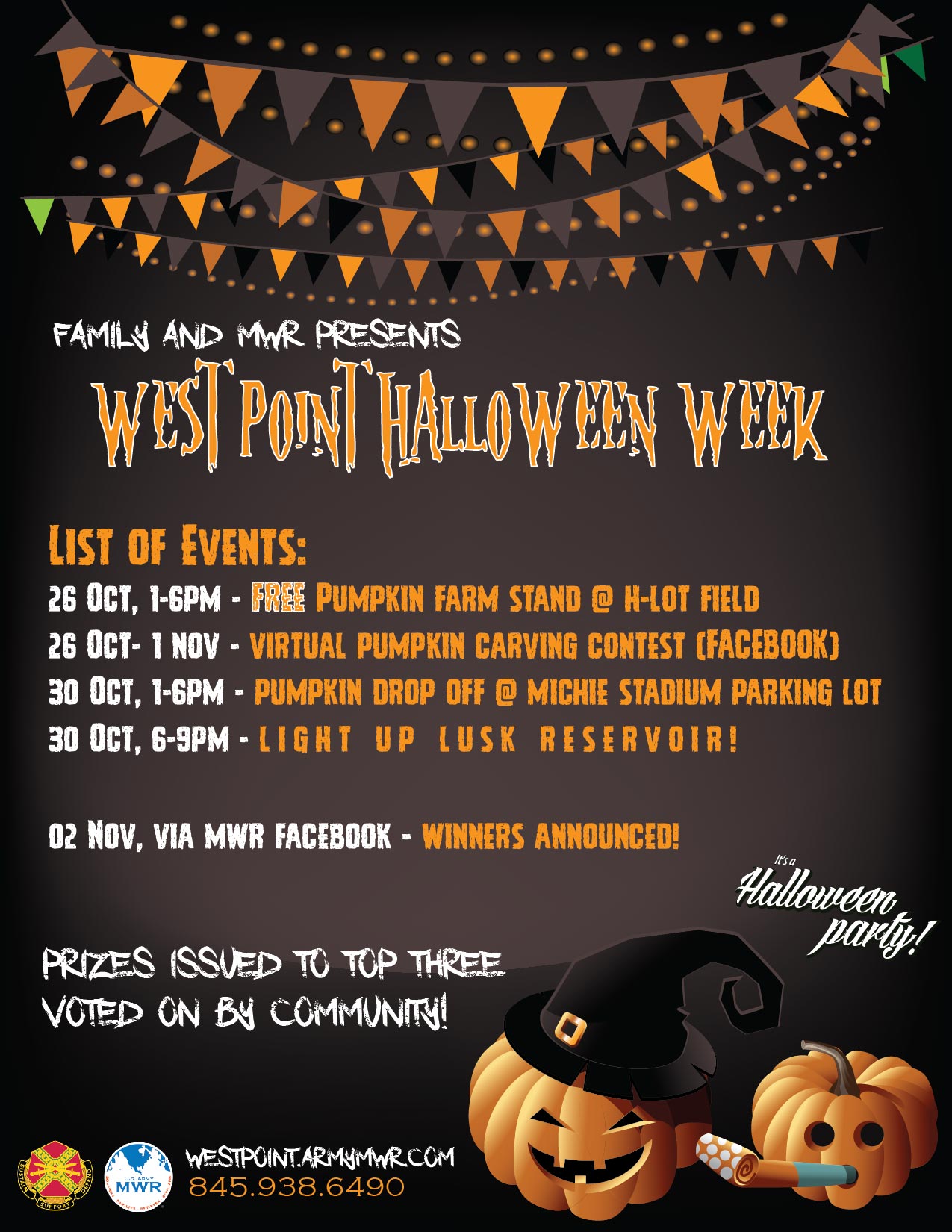 Cost
All events are FREE!